Four E's Scientific is one of the best-recognized companies to manufacture scientific equipment and laboratory tools. Four E's Scientific is manufacturing single and multichannel volume adjustment micropipettes, magnetic stirrer, pipette stand, centrifuge machine, and vortex mixture.
Four E's Scientific is ISO9001:200 and ISO13485:2003 certified to manufacture quality products.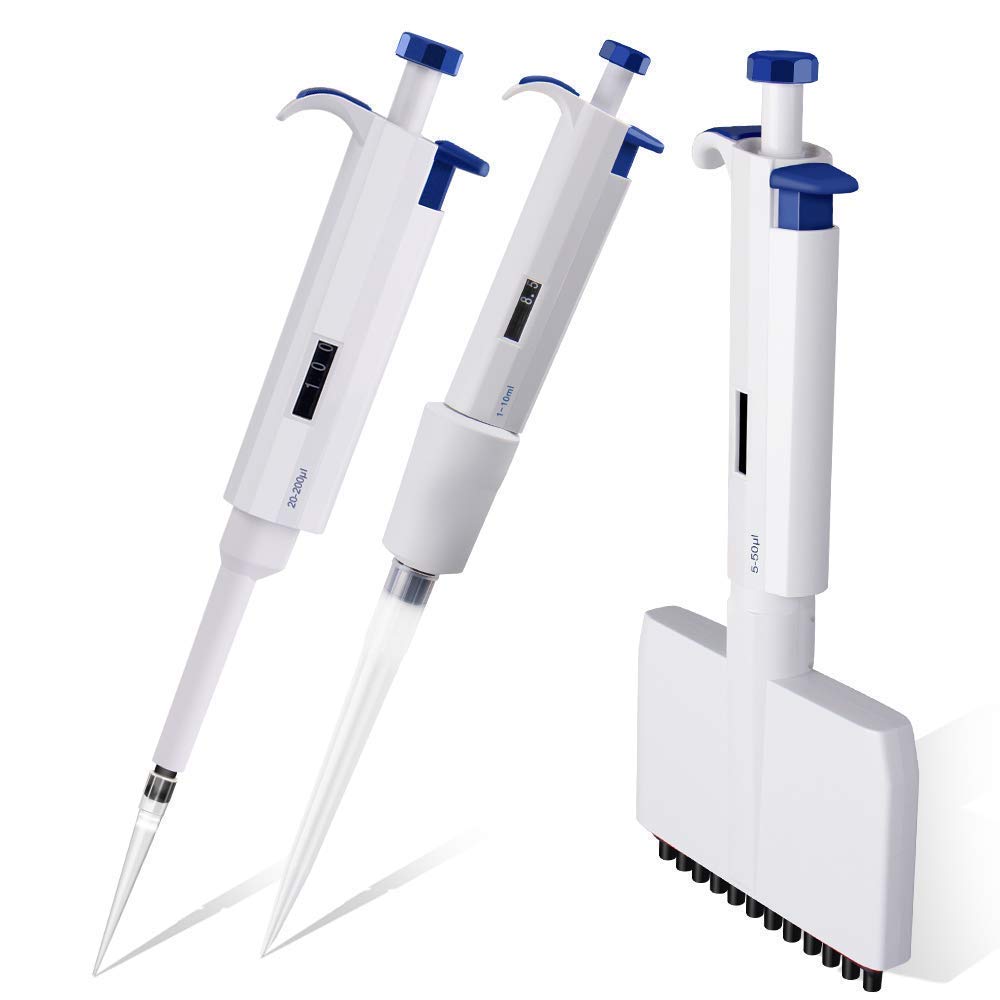 Features:   
Four E's scientific micropipettes are well known for their performance. Some of the features of these micropipettes are:
Precision and accuracy:
Four E's Scientific micropipettes are volume adjustment micropipettes to measure and dispense liquid volumes with high precision and accuracy. Micropipettes are calibrated to ISO 8655 standards to ensure their precision and accuracy.
Volume adjustment and Digital display:
In laboratory work, you need to measure different volumes of a liquid. Four E's Scientific micropipettes ensure easy volume adjustment. Volume can be adjusted simply by rotating the volume adjustment knob. A digital display of set volume is shown that allows a more accurate volume setting and measurement.
Ergonomic design:
Micropipettes are light in weighing having an ergonomic and easy to handle design. The tip can be easily attached to the shaft and tip ejector allows easy removal of the tip. This reduces the chances and risks of getting repetitive stress injuries.
Autoclavable:
The lower section of micropipette can be easily detached and it is made up of such type of material that it can also be autoclaved at for 20 minutes.
Durability:
Micropipettes are calibrated to ISO8655 for their precision. Four E's Scientific use high-quality material for manufacturing micropipettes. This high-tech material is excellently resistant to weather, temperature, and corrosion.
Packing:
Four E's Scientific micropipette comes in packing with each pack have the following:
Micropipette
One micropipette tip
Removal tool for removing lower part for cleaning and autoclaving
User manual guide
Calibration tool
Micropipette holder
Certificate for quality control
Silicon grease (use after the cleaning of micropipette)
Warranty:
Four E's Scientific micropipette comes with one year against defects in material and inability to perform its function according to the provided manual.