Pipette definition:
In scientific labs, pipettes (pipets) are typical laboratory tools for transporting a measured amount of liquid, frequently as a media dispenser. From simple single-piece glass pipettes to more complicated adjustable or electronic pipettes, there are a wide variety of pipettes available for a variety of applications. There are a number of pipette types that use a partial vacuum above the liquid-holding chamber to draw up and distribute the liquid, and then selectively release this vacuum. Instruments have varying degrees of measurement precision.
What does pipette measure?
A pipette is a laboratory tool that is used to measure and dispense small volumes of liquids. The word "pipette" comes from the French word "pipette," which means "little pipe." Pipettes come in a variety of sizes, shapes, and designs.
Plastic and glass pipettes are typically used to measure volumes less than 1 milliliter (mL). Electronic pipettes can be used to measure volumes as small as 0.1 microliters (μL).
Types of Pipettes:
There are three basic types of pipettes: plastic, glass, and electronic. Plastic pipettes are made from polyethylene terephthalate (PET), glass pipettes are made from borosilicate glass, and electronic pipettes are controlled by a microprocessor. Here are some popular types.
Air displacement micropipettes
An air displacement pipette is a typical scientific instrument for measuring liquid volumes from 1μL to 1000 μL. (1 ml). This laboratory tool's exceptional precision makes it ideal for ordinary pipetting. Because most organic solvents may harm air displacement pipettes, they should only be used on aqueous and non-viscous samples. Use air displacement pipettes with filter tips for biological samples (DNA, RNA, proteins).
There are six essential parts to an air displacement pipette (plunger, tip ejector, volume adjustment dial, digital volume indicator, shaft, and disposable tip attachment point). The piston is a permanent element of the pipette.
Positive displacement pipette
Positive displacement pipettes are a kind of pipette that works by using a piston to move the liquid. Unlike an air displacement pipette, which distributes liquid via an air cushion in the pipette tip, the piston in a positive displacement pipette makes direct contact with the sample, maintaining a constant aspiration force.
Volumetric pipettes
A volumetric pipette, bulb pipette, or belly pipette is used to measure the volume of a solution with exceptional precision (to four significant figures). It has been calibrated to provide a precise amount of liquid.
As these pipettes are calibrated for a single volume, they feature a wide bulb with a long narrow part above with a single graduation mark (like a volumetric flask). 1 mL, 2 mL, 5 mL, 10 mL, 20 mL, 25 mL, 50 mL, and 100 mL are In analytical chemistry, volumetric pipettes are often used to create laboratory solutions from a base stock and to prepare solutions for titration.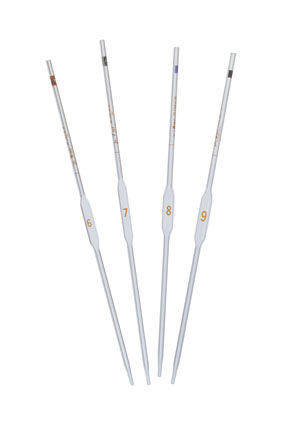 Graduated pipettes
A graded pipette is a pipette that has its volume indicated along the tube in increments. It's used to precisely measure and transfers liquid volumes from one container to another. It has a tapering tip and is composed of plastic or glass tubes. Graduation marks run the length of the tube, showing volume from the tip to that point. A tiny pipette enables for more exact fluid measurements, whereas a bigger pipette may be used to measure volumes when precision is less important. As a result, pipettes come in a variety of sizes, with the majority measuring between 0 and 25.0 milliliters.
Pasteur pipette
A pipette is a piece of laboratory equipment that consists of a long, fine nose and a rubber bulb that is used to pull tiny quantities of liquid from a chemical liquid or solution. In a small sample, it's often utilised to distinguish two phases.
Pasteur pipettes, also known as droppers or eye droppers, are liquid handling equipment used in laboratories to transfer tiny amounts of liquid. Pasteur Pipettes had historically been constructed of glass, however plastic Pasteur Pipettes are now widely used in laboratories across the globe. Pasteur pipettes are glass or plastic tubes with a small opening point at one end and a plastic or rubber bulb at the other. A 'teat pipette' is a combination of a glass Pasteur Pipette and a rubber bulb.
Transfer pipettes
Transfer pipettes are single-use plastic pipets that are used to transfer tiny amounts of liquid. They are made out of a long, narrow tube and a molded bulb that can be squeezed and released to extract or distribute liquid. Pasteur pipets, teat pipets, droppers, eye droppers, and chemical droppers are all names for transfer pipets.
Specialized pipettes
Pipettes for transferring high liquid volumes in the lab and for volatile, viscous, thick liquids. They are built in a specialized way. Examples of specialized pipettes are Van Slyke pipette, Ostwald–Folin pipette, Glass micropipette, Microfluidic pipette, Extremely low volume pipettes.
FAQs:
What is a Pipetting syringe?
Syringes can be used for pipetting, syringes for general use are available in a variety of sizes and with or without pre-attached needles. With chromatographic analyzers and autosamplers, Gastight syringes are employed. Various syringe attachments are available to assist you in keeping your syringes in good operating order.
Sharps disposal containers should be used to safely dispose of used needles.
What is Van Slyke pipette?
For volumetric analysis, a graduated pipette is often employed in medical technology with serologic pipettes. Donald Dexter Van Slyke came up with this idea.
What is Ostwald–Folin pipette?
Ostwald-Folin pipettes, also known as blood pipettes, are volumetric glass or plastic transfer pipettes that are used to transfer whole blood, serum, and other viscous fluids. The majority of Ostwald-Folin pipettes are used in clinical laboratory testing.
What is a Glass micropipette?
The glass micropipette was originally designed as a micro-tool for manipulating single bacteria as well as microinjection and microsurgery of living cells. However, it was discovered to have potential as a microelectrode for electrically stimulating individual cells and studying their electrical potentials. In the 1920s, enormous plant cells provided the first successes and precise mechanistic explanations of the outcomes. After the discovery of gigantic nerve fibres and the development of finer pointed microelectrodes for normal-sized cells in the 1930s and 1940s, previously unknown surface electrical activity in nerves and muscles was resolved at a comparable cellular level.
What is a Microfluidic pipette?
Microfluidic pipettes, also known as multifunctional pipettes, are a one-of-a-kind device that can perform a wide range of complicated fluid processing functions, such as mixing, multiplexing, and gradient production. In cellular and sub-cellular level applications such as fluorescence uptake tests, electrophysiological investigations, and chemical stimulation of cell membrane protrusions, the hydrodynamically limited microflow pipette, used in research and academic laboratories, swiftly handles and distributes solutions. Easy cleaning and positioning, compatibility with conventional cell cultures and optical microscopes, and rapid and durable interface are all features to look for.
What are Extremely low volume pipettes?
These are called micropipettes, you can read our article about micropipettes here.
What is Pipette Aids?
Pipette-aides, also known as pipettors, are suction devices that suck liquids into or eject liquids from pipettes. It may be essential to expel, or blow-out, the complete liquid volume from the pipette using the pipette-aid for some sorts of measurements.
What is a Pipette stand?
A pipette stand is a container for manual and electronic pipettes that provides safe and easy storage. The supports for electronic pipettes, in particular, can recharge the pipettes' batteries, usually through charging pins or connections. It is also sometimes called pipette holder.
How do pipette disinfectants?
Most of the times pipettes are for one time used, in other cases, disposable tips are used. Externally, most pipettes may be cleaned with common home or laboratory cleaning products, soaps, or alcohol. The outside of the pipette may be readily cleaned by spraying or wiping the outside of the instrument. Allow the cleaning solution to stay on the pipette for 10-12 minutes before wiping it off to ensure complete sterilisation.
Cleaning the inside of your pipette takes longer since it involves complete disassembly. Depending on the material, shape, size, and function of the item, it will need to be cleaned accordingly.
Is pipette accurate?
Maintaining accuracy is critical since inaccuracies may have a significant influence on outcomes.
A pipette is accurate if the volume given is the same as the volume stated. Precision, on the other hand, is concerned with the consistency of multiple measurements rather than a standard value, i.e. the pipetting samples' repeatability.
What are pipette tips?
Pipette tips are moulded plastic tips that are tiny and disposable. A scientist puts a pipette tip to the end of a pipettor, which is shaped like a cone, and then uses it to transfer liquid. Microliters (uL), or one-thousandth of a millilitre, is the unit of measurement for the liquid used in the pipette tip (mL)